Coco Grove Beach Resort has a range of facilities available for in-house guests.
Rooms
Coco Grove Beach Resort offers native style Cottages and Villas, set within tropical gardens or right along a white sandy beach. All our rooms are fully air-conditioned and have a private veranda with mini-bar and complementary tea or coffee. Rooms vary in size and layout depending on the number of guests per room.
Read more about our Rooms or review our latest Room Rates.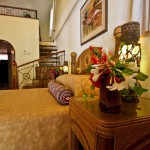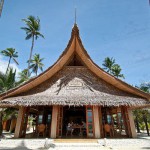 Wi-Fi
We have free internet access at various hot spots in the resort including Casa Coco, pool areas and restaurants. Wi-Fi is for in-house guests only.
Complimentary Water
The resort offers free complimentary bottled spring water in the rooms and unlimited water stations through the resort. Read more about our complimentary water.
Medical Center
We provide "first response" treatment for medical emergencies along with equipment for severe cases (such as hydraulic transportation beds; oxygen; bandages etc.) to ensure patients are treated prior to the arrival of paramedics and the ambulance.
Our medical center is equipped with industry medical equipment. We also can treat small cuts and can provide basic medicines to treat ill travelers.
Garden and Pool Bars
We have several bars serving fresh shakes, juices and alcoholic beverages.
Functions
We have locations and facilities to host your next function.
Please view our dedicated Functions page for more information.
Dive Shop, Dive Center and Diving School
Learn to dive at our certificate PADI and NAUI dive shop. Not keen on diving? You can also snorkel or explore Tubod Marine Sanctuary in our Glass Bottom Boat.
Please view our dedicated Diving page for more information.
Daily Yoga Classes
Be relax and free by joining our free daily yoga classes.
Please view our dedicated Yoga Classes page for more information.
Art Studio
Our art studio showcases fine art of water colors taught by Kohji Kuwabara together with local students.
The Coco Art Foundation is a non-profitable organization that provides financial and technical support for emerging local artists. This Art Studio is a way to showcase their work of art and share it with the community and guests.
Paintings can also be purchased by guests with proceeds going towards the livelihood program for deserving budding artists.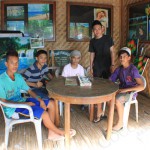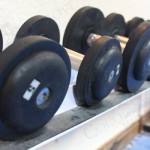 Koi Pond
The home of lots of large Koi fish. Ask our Front Desk when they will be feeding the Koi and watch the Koi go in a frenzy.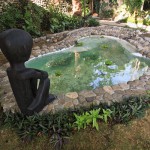 Page last updated: February 20, 2021
All schedules, times, prices and content may be subject to change without prior notice.