In Coco Grove Beach Resort and on Siquijor Island, we hold and participant in a number of special events throughout the year.
Read more information about:
In the Philippines, like in Spain, we celebrate Fiesta. Fiesta is when a town or a certain area honours and celebrates its patron saint's day. There is a certain time of year that Siquijor celebrates this event and everyone is free to join in.
Read more about the Siquijor Fiestas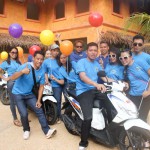 Page last updated: September 12, 2023
All schedules, times, prices and content may be subject to change without prior notice.