This beautiful day trip begins from Coco Grove Beach Resort early in the morning with breakfast on board. Our experienced crew will cruise you to Oslob where you can swim, dive and/or snorkel with Whale Sharks. You will then have lunch on Sumilon Beach and experience amazing diving around Sumilon Island and Oslob. To end the day and your trip back to Coco Grove Beach Resort, you may witness beautiful sunsets.
Read more about this tour: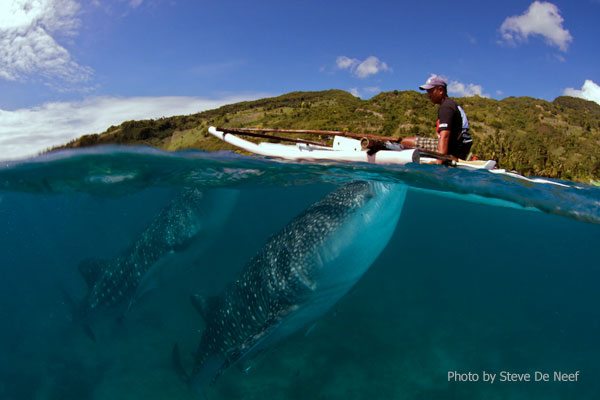 For the past few months, we've been part of a really special and rare opportunity to experience the grandeur of the magnificent creatures, Whale Sharks (Butanding in filipino).
The whale shark watching experience feels surreal and beautiful. They're so large but so graceful as they swim alongside you. Getting up close and personal with these friendly giants really makes you feel close to nature and reconnect with the world around you.
Whale Sharks have been migrating through Oslob for many years now, and you can expect to see an average of four to five whales each time, but sometimes we've even witnessed up to twelve in the area while being fed by the local fishermen. There are a mixture of whale sharks, mostly averaging around three to five metres in length, but so far the largest we have sighted during our trips at Oslob was 9 metres long.
This beautiful day trip begins from Coco Grove Beach Resort early in the morning with breakfast on board. Our experienced crew will cruise you to Oslob where you can watch local fisherman feed the whale sharks. You also have the opportunity to get close, swim, diving and/or snorkel with them. You will then be treated to a sumptuous buffet lunch on Sumilon Beach and experience amazing diving around Sumilon Island and Oslob. A perfect end to a perfect day includes the well-renowned sunsets that you'll experience on the trip back to the resort. We tailored our trip so that's it's not only great fun, but a most relaxing and comfortable experience, one you'll be sure to love.
The largest whale shark ever measured was 40 feet (12.2 meters) long; however, the species is thought to grow even bigger.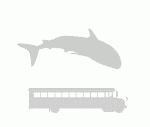 Number of People: Day tours run with a minimum of 12 guests that are interested in going. The Coco Adventurer can accommodate a maximum of 22 guests for the tour, and the Esmeralda boat can accommodate a maximum of 15 guests for the tour.
What should I bring: Swimsuit, a hat, and a smile. Towels are provided on board, but you can also bring your favourite beach towel to laze around on, on the beach. Diving equipment and snorkels are available from our Dive Shop. We recommend preparing your equipment with us 1 day before departure.
When Is It: Being one of our seasonal tours, it's best to go during the months of November to May
Why Should I Do It: It's just one of those trips you have to experience at least once in this lifetime, and those who have, rave about doing it again
Where Is It: Departing from Siquijor Island, you will travel to Oslob (where the Whale Sharks are) and Sumilon Island (famous for it's beautiful sand bar). Oslob is located on the southern part of Cebu, and is just a short distance from Sibulan, Negros Oriental. From Siquijor it will take about 2-2.5hours to reach Oslob.
Tour Inclusions: Inclusive of breakfast, lunch, snacks, tea and coffee, snorkeling equipment, sanctuary and entrance fees. Beverages available include beer, wine, juices, soft drinks and water. Excludes diving fees.
Diving Particulars: You can do a maximum of two dives per trip. The first dive in Oslob and the next dive in Sumilon. Diving equipment is available for rent.
Guest Tips:
Bring a sarong to wrap around like the locals do, great for when it gets a little too windy or if it's a super sunny day
Please don't touch the whales for both their safety and yours, try to maintain a distance of 5metres while swimming
Steer clear from the Whale Sharks tails, their tails can be strong if it sways past you
Try not to litter and keep the waters clean and clear
Whale Shark Tour – absolutely world class!!

I took my family visiting from the Gold Coast on this tour run by Coco Grove. If there is a better organized, better value adventure/leisure activity in Asia – I am yet to do it!

It's a long day getting on the boat at 6am and returning at 5pm. How many times have you been disappointed by the "free" breakfast on a tour, when you get a piece of cold toast and a fried rubber egg? Well, we were delighted with this gourmet breakfast, we were spoilt for choice with bacon, eggs, fresh pan cakes, pastries and lovely fresh mangos.

Diving with the Whale Sharks near Siquijor, is one of those things you do once in your life and never forget it! Simply amazing is the only way to describe these majestic animals. What an experience!

After a few hours of swimming we worked up a healthy appetite and were treated to magnificent lunch on the white sands of a nearby island (Tea Ladies Tip: don't fill up on the fresh salads and chicken schnitzel– save some room for the wonderful ham-off-the-bone – the author may been guilty of 2nds (and 3rds).

The happy and friendly staff dished up a few cold beers on the pleasant cruise home, the perfect end to a perfect day!
Page last updated: October 22, 2023
All schedules, times, prices and content may be subject to change without prior notice.