In the Philippines, like in Spain, we celebrate Fiesta. Fiesta is when a town or a certain area honours and celebrates its patron saint's day. Here's some information on the Siquijor Fiesta.
The day begins with a mass held for all in the town church, followed by a variety of traditions. It is characterized by a flourish of colours and cheerful music demonstrated through street parades, dances and other street performances. Some may say it is a massive party where everyone is invited to join and celebrate.
During this time, you will see many people open their homes and offer buffets of food that have been in the making for days. It is the perfect time for Filipino families to hold their family reunions, where family members from all over the country (and sometimes even from overseas) will come to gather.
There will be many street vendors passing through the town just for fiesta, and town dances (or discos) where even the eldest will be seen dancing and living it up.
Vesperas is the day before Fiesta, on this day many will be preparing for their fiesta day, with some even having open house already. The days will be warm, and everyone may be scarce during the mornings after having stayed up late enjoying the festivities. You will hear children's laughter everywhere, and see the smiles of all. It is truly a spectacular experience, one where you will feel a part of the people and delight in the culture that is found in a Fiesta.
Fiesta is actually only one day, but the celebrations preceding it make it a complete festival calendar, with activities such as basketball tournaments and 'who has the most beautiful garden' competitions being held weeks in advance. It is a very organized calendar of events by the community, and is a great time to look forward to.
If ever you get the chance to be here during a fiesta on Siquijor, you can experience Fiesta too. Whether it be by watching the street parades, performances, and beauty pageants or having a go at dancing at the town square or basketball court (which has been transformed overnight into an awesome dancing arena). The following is a list of some of the main festivals here in Siquijor, including our very own Barangay's patron saints day.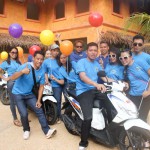 Municipality: Siquijor – October 3-4 (also known as Dilaab Festival)
Patron Saint: St. Francis of Assisi
Dilaab' suggests the distinct hospitality that the Siquijodnons are popularly known for, and the name the island was once-known for "Isla de Fuego" because of the swarm of fireflies nestled in the island at night. The festival also gives due recognition to the natural assets of Siquijor and in honor of the town's patron saint, St. Francis of Asisi who is known as a lover of nature. This is one of the biggest fiesta celebrations on the island with all kinds of activities and shows lined up each year.
Municipality: San Juan – August 24-25 (also known as Bugwas Festival)
Patron Saint: St. Augustine of Hippo
The festival is San Juan's way of celebrating a bountiful and abundant harvest in honor of their patron saint, St. Augustine. Bugwas means a spurt of water coming from an underground source, which flows freely in the open ground. Since San Juan is blessed with abundant spring waters, these waters give the farmers bountiful harvest, the fisher folk with an abundant catch and making and making the life of the people of San Juan happier and fruitful because of a good and bountiful harvest each year. Tubod, is part of San Juan, so our barangay joins in the festivities and as a part of one of the many barangays that make up San Juan.
Barangay: Tubod – March 18-19
Patron Saint: St. Joseph
This our barangay's fiesta. Just a walk from the resort and you can immerse yourself in the celebrations. St. Joseph, the spouse of Blessed Virgin Mary, celebrates carpenters, schools and parishes bearing his name, and children born with his name (or a form of). In some traditions three people were chosen to represent Jesus, Mary and Joseph partaking a meal. In Tubod, a short procession along the barangay road occurs, with lighted candles on the way to the church.
Municipality: Lazi – May 14-15 (also known as Saging Festival)
Patron Saint: St. Isidore de Labrador
Recognizing the importance of saging (banana) in the lives of the people with its many uses, the story of how this plant came to exist is being depicted in dances during the town's fiesta on May 15. The Saging festival is also done to showcase the variety of bananas and a way of praising for the abundance of the harvest. On our island tour, you will visit Lazi Church and convent. During fiesta, both these historical places play a major part of the fiesta.
Municipality: Maria – May 20-21 (also known as Lubi Festival)
Patron Saint: Our lady of divine providence (Mary mother of Jesus)
A joyful expression of thanksgiving in honor of the patron Saint Our Lady of the Divine Providence for a bountiful harvest and blessings received from the tree of life locally known as "Lubi" (coconut). Held every 21st of May, the dance contest portraying the festival is one of the highlights of town's fiesta celebration.
Municipality: Enrique Villanueva – July 15-16 (also known as Pamukad Festival)
Patron Saint: St. Mt. Carmel
Expressing greatness, joy and thanksgiving of the bountiful catch of fish through the intercession of Divine power, the Pamukad demonstrated the different fishing routines and rituals of the fisher folks. The festival is held couple of days before July 16 every year which is the town's fiesta celebration.
Municipality: Larena – May 2-3 (also known as Canoan Festival)
Patron Saint: St. Vincent
Encouraging farmers from the mountain to come and sell their fresh produce in the town markets, the Canoan festival signifies the hard work of farmers and laborers, by celebrating their successes with fresh vegetables and fruits for all to eat. One of the larger fiestas on the island, celebrations include beauty pageants, street dances and major artists coming to perform in the town square.
Page last updated: February 20, 2021
All schedules, times, prices and content may be subject to change without prior notice.